The Flow FISH telomere length measurements used by RepeatDx® have been shown to be valuable as a screening test for inherited telomere biology disorders resulting from mutations in specific genes. Flow FISH analysis has the unique advantage over other telomere length protocols by providing information on a variety of cell types from one blood sample. Fluorescent signals from telomeres are assessed on a single cell basis by flow cytometry, with patient results reported for lymphocytes, granulocytes, B-cells, naïve and memory T-cells, and NK cells.
All patient telomere length profiles are reported in relationship to age-matched controls and are available for all age ranges from pediatric to geriatric. This telomere reference curve was established by the study of over 800 healthy individuals between birth and 100 years of age. This informative technique allows analysis and comparisons of the telomere length between different cell types and within one cell type, e.g. in differentiating between constitutional deficiencies and specific cell type deficiencies.
Studies have shown that the telomere length declines with age, and follows distinct patterns in T-cells, B-cells and hematopoietic precursor cells. Longitudinal studies of hematopoietic stem cell transplantation have shown a rapid telomere length decline in the first year after transplant followed by stabilization.
Flow FISH at RepeatDx
RepeatDx's flow cytometry based Flow FISH procedure gives us the ability to analyze telomere length in children and young adults with dyskeratosis congenita and in patients with pulmonary fibrosis, aplastic anemia, myelodysplastic syndromes / acute myeloid leukemia, and other telomere biology disorders. Results from Flow FISH telomere length measurements guide personalized treatment options and strategies.
The process of Flow FISH telomere length testing at RepeatDx is illustrated below.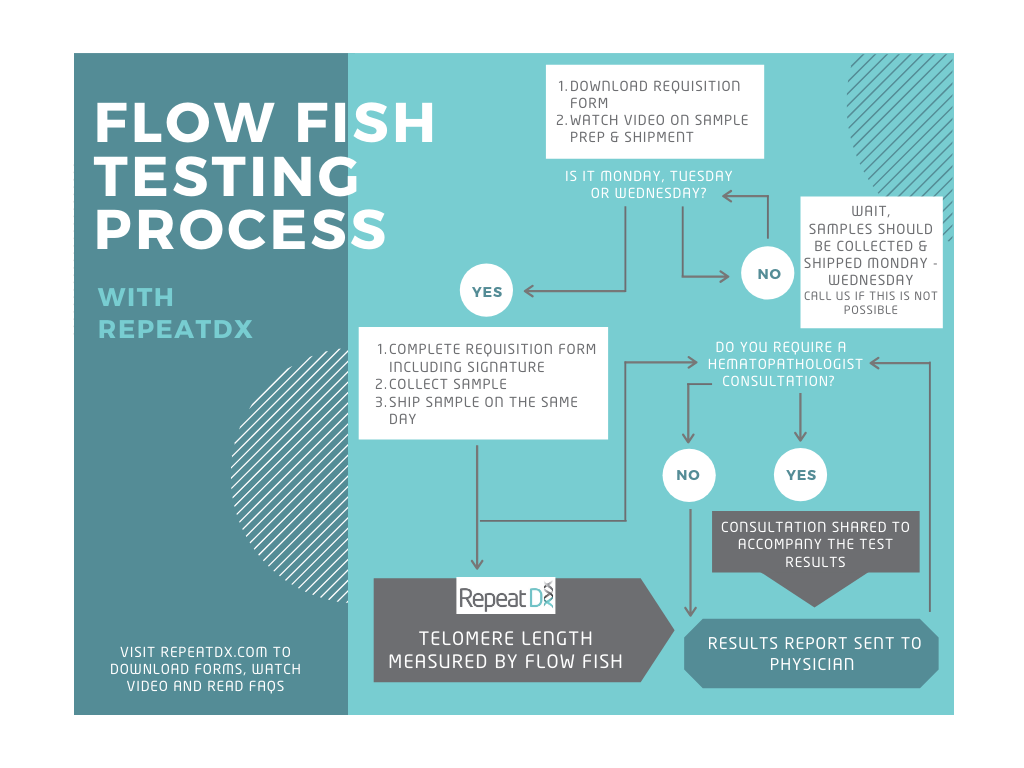 RepeatDx has state-of-the-art laboratory equipment including two flow cytometry analyzers. Both instruments were customized to meet the exclusive requirement to provide superior telomere length measurements. RepeatDx's improved Flow FISH procedure has proven to be the most accurate and reproducible measurement of human leukocyte telomeres in comparison to other available procedures.
Telomere Research at RepeatDx
The need for telomere length measurements in clinical and other research studies is rapidly increasing. In order to support scientists in their efforts to advance the field of telomere biology, RepeatDx is actively seeking partnerships. In addition to performing Flow FISH telomere testing, RepeatDx can help in areas of grant support and provide special discounts for multi-sample research contracts.
For more information on research collaborations please contact us.