In 2005 Peter Lansdorp and Gary de Jong set out to address an unmet need, providing physicians with accurate and reproducible telomere length measurements for use in clinical practice. As we approach our 15th anniversary, we take a look back at the origins of RepeatDx (Repeat Diagnostics Inc.) and what we think makes us and our telomere testing methods stand out.
The start of our telomere testing journey
RepeatDx, located in North Vancouver, Canada, is a spin-off from the BC Cancer Agency and was established when requests from physicians for telomere length testing using the Flow FISH technique overwhelmed the research laboratory of Dr Peter Lansdorp, where this technique was developed.
Dr Lansdorp, a co-founder and Chief Scientific Officer of RepeatDx and his team had worked endlessly for many years, making several modifications to refine the protocol. The fully automated multicolor Flow FISH procedure developed to measure telomere length was published in Nature Protocols in 2006.
Initially focused on diagnosing the telomere biology disorder dyskeratosis congenita (DC), other applications of the Flow FISH test have rapidly advanced. Over the years, we have evolved and expanded RepeatDx's Flow FISH testing to support the diagnosis and treatment of conditions connected by their telomere biology, such as idiopathic pulmonary fibrosis, aplastic anemia and myelodysplastic syndromes.
RepeatDx continues to perform complex Flow FISH telomere length testing at the highest level of quality and our customer base has grown to include physicians from around the world.
RepeatDx timeline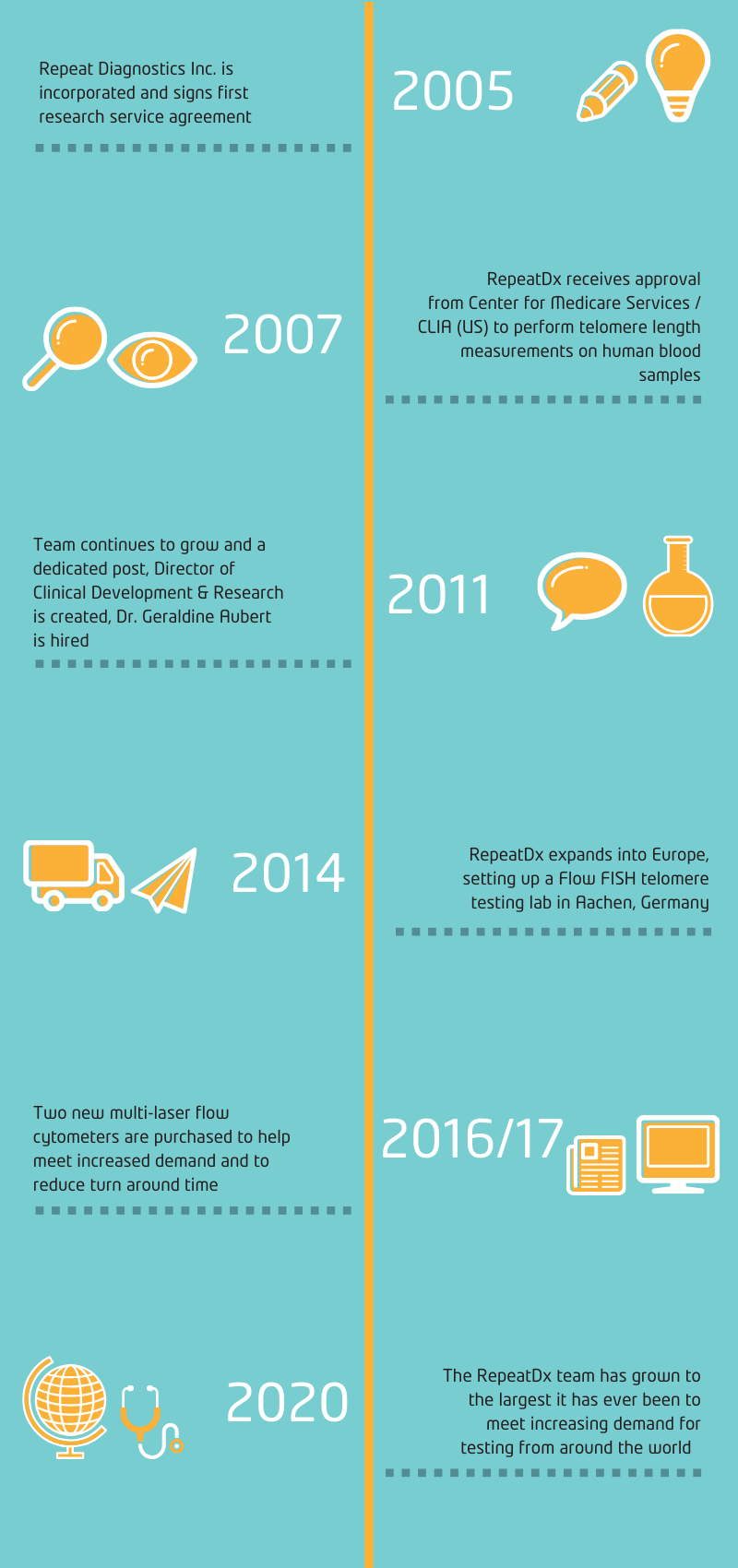 Today we continue to meet the clinical regulatory requirements that allow RepeatDx to work with many physicians and accept samples from around the world.
RepeatDx continues to build trust in the medical community by providing top quality telomere length diagnostics services. 15 years on, as we continue to develop and grow, we want to say thank you to everyone we have worked with, and still work with today. 
Gary de Jong, co-founder & CEO said: "It's been 15 years since the founding of RepeatDx. There have been many challenges and rewards that I have learned from and I appreciate them all. The medical community continually show their confidence in us by utilizing our Flow FISH technology and by recommending us to others. We are grateful for that confidence and we will continue to do all we can to earn it."

He added: "To be in business for 15 years requires having incredible people in your organization. I am so grateful for the opportunity to work every day with a group of talented, passionate and caring people. Your willingness to give of yourselves and help each other is very special and is deeply admired. You are the best. Those efforts and continued dedication give us all reasons to be excited about our future."

"I would also like to acknowledge my family and business associates who have been supporting our efforts for many years. To all of the aforementioned, it is with a tremendous amount of gratitude that I offer you all a very sincere thank you."
RepeatDx and telomere testing: what makes us special?
We think there are many positive aspects of our business, but here are some we want to highlight:
We are experts in telomere length testing – it is the only type of diagnostic testing we conduct so we are true specialists
We are the only clinical laboratory providing telomere length analysis on six cell types from one blood sample – meaning we can provide more detail and support diagnosis for a range of conditions
We are licensed in all 50 US States, Canada and Europe and accept samples from around the world – enabling us to work with many physicians
We are passionate and driven – as a team we are always keen to be involved in research alongside our clinical work, constantly driving for progress and development
Click on the link to find out more about RepeatDx and the Flow FISH telomere testing we conduct.